Visiting Saint-Germain-des-Prés
This epicentre of Paris' intellectual community in the 1950s is home to the oldest church in Paris, as well as hidden streets and courtyards. This is where you will find some of the best food in Paris. The Jardin du Luxembourg, one of the city's most beautiful parks due to its palace and its large pond on which children sail wooden boats, is an important part of Parisian life and definitely a must-see.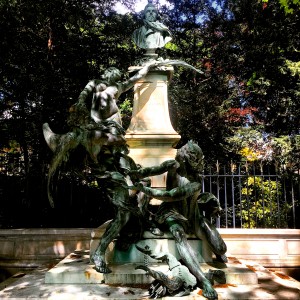 Saint-Germain-des-Prés is probably the most famous of Paris' districts. Each district in Paris has its own unique atmosphere. What distinguishes Saint-Germain-des-Prés is that it was the stamping ground for intellectuals in the 1950s. It is home to mythical Parisian cafés such as Café de Flore or Les Deux Magots, which were frequented by great authors such as Simone de Beauvoir, Jacques Prévert or Jean-Paul Sartre, and perhaps even some of their characters… But Saint-Germain-des-Prés was also idealised by American writers who, at the time, saw it as the most romantic part of Paris.
Saint-Germain's distinctive character may stem from the fact that it was originally a town in its own right. In the 12th century, Saint-Germain was a small town with 600 inhabitants. At the time, it encircled the Abbey of Saint-Germain-des-Prés, which was consecrated by the Bishop of Paris in 558. Its territory adjoined Paris and extended to where the very chic 7th arrondissement and the mythical 6th arrondissement are now. The abbey's influence continued to grow and stone buildings were erected around it. This was the genesis of the Saint-Germain-des-Prés we know today.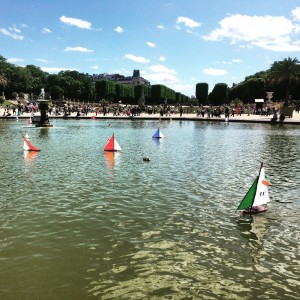 Saint-Germain-des-Prés is a famous district on la Rive Gauche (the left bank of the Seine) where you'll find Paris' finest treasures from the Belle Époque period. All along the Seine, it is home to tiny streets with typical names, as well as hidden courtyards you could easily walk by without noticing.
Finally, for a well-earned rest after eating, on the edge of Saint-Germain-des-Prés and the quartier des Écoles (Schools' District), visit a park considered to be one of the most beautiful in Paris due to its palace, its fountains and its statues: the Jardin du Luxembourg.
No Paris visit is complete without a stroll through Saint-Germain-des-Prés, the village within the city.
---