In the famous district of Le Marais, apartments are now worth about thirty times more than they were thirty years ago.
Once you get away from the shopping streets and the crowds they attract, you can contemplate the private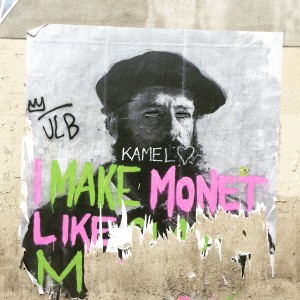 mansions that reflect the grandeur and wealth of this district in the 16th century. It is called Le Marais (the Marsh) because it actually was a marsh in the 12th century. It was then converted into farms. Henry IV had the Place Royale built here (now called Place des Vosges). Did you know that these marshes were replaced by sumptuous mansions inhabited by families wanting to be closer to the king? But when Louis XIV left for Versailles, the nobility progressively left Le Marais and moved west to be closer to the "Sun".
After the war, in the early 1950s, the image of the rich neighbourhood of old where each mansion was more dazzling than the next was forgotten. It became a working-class neighbourhood and most of the sumptuous buildings that make Le Marais what it is today were dilapidated.
It was the restoration orchestrated by André Malraux that made the buildings in Le Marais beautiful again. Killing two birds with one stone, he took the opportunity to transform some of these emblematic mansions into excellent museums: the Musée National de Picasso-Paris (Picasso museum), the Carnavalet Museum, and the Museum of Hunting. And just outside Le Marais stands the Centre Pompidou, the Beaubourg modern art museum with an extraordinary (and controversial) architecture by Renzo Piano and Richard Rogers.
Le Marais is also the traditional Jewish area of Paris. In the 1980s you could also find quite a few hoodlums here. And more recently it's become the gay area of Paris.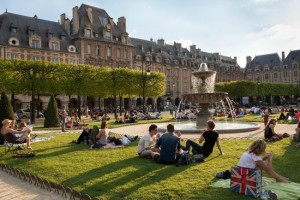 As you can see, Le Marais is interesting because it can be viewed from many perspectives. Le Marais' "users" themselves often have no idea of how multi-faceted this district is. It can be viewed from the perspective of its history, or its consecutive histories to be more accurate; but also of its fashion culture, its art galleries, its hip restaurants, its gay bars, and the famous Rue des Rosiers and its L'As du Fallafel restaurant recommended by Lenny Kravitz himself; or we can escape this place and the throngs of tourists, to discover some more authentic places I know.
I'm offering you the opportunity to take a guided tour around this district, which is popular for countless reasons. I will take you to the must-see sites that have forged its reputation, but I will also help you to glimpse or imagine those other versions of Le Marais that shaped the soul of this place well before the hordes of tourists and the in-crowd arrived.
---